We all know that a balanced diet is the foundation of a healthy lifestyle. The key to unlocking our true potential lies in the quality of the fuel we provide our bodies. Incorporating nutrient-rich snacks into our daily routines can significantly boost our energy levels, enhance focus, and keep those pesky hunger pangs at bay.
While reaching for store-bought snacks laden with sugars, unhealthy fats, and preservatives is tempting, we mustn't overlook the immense joy and satisfaction of preparing our snacks at home. Making our treats gives us total control over the ingredients and a fantastic opportunity to experiment with flavors and textures to create the ideal fusion of flavor and health.
This blog takes you on a delicious tour of a wealth of easy-to-make healthy snack recipes you can make in the comfort of your kitchen.
1. Avocado Toasts with Creamy Peanut-Avocado Sauce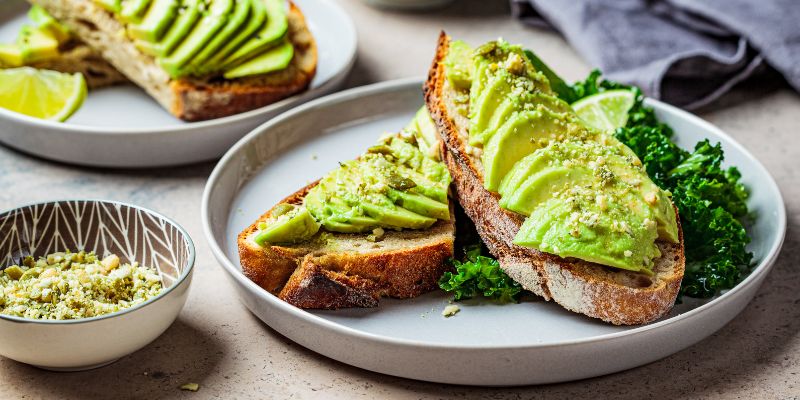 Ingredients:
Two ripe avocados
Two tablespoons of creamy peanut butter
Two tablespoons of lime juice
One garlic clove, minced
1/4 teaspoon salt
1/4 teaspoon black pepper
Four slices of whole-grain bread
Optional toppings: sliced cherry tomatoes, red pepper flakes, sesame seeds, cilantro leaves
Instructions:
Scoop out avocado flesh into a bowl and mash until creamy but slightly chunky.
Add creamy peanut butter, lime juice, minced garlic, salt, and black pepper to the bowl. Mix until smooth.
Toast whole-grain bread slices until golden and crispy.
Spread the creamy peanut avocado sauce generously on each slice.
Get creative with toppings: cherry tomatoes, red pepper flakes, sesame seeds, or cilantro leaves.
Serve and enjoy this healthy and satisfying Avocado Toast with Creamy Peanut-Avocado Sauce!
You'll Also Like: How To Enjoy Seafood Delight Chinese Food The Right Way?
2. Cinnamon Almond Bars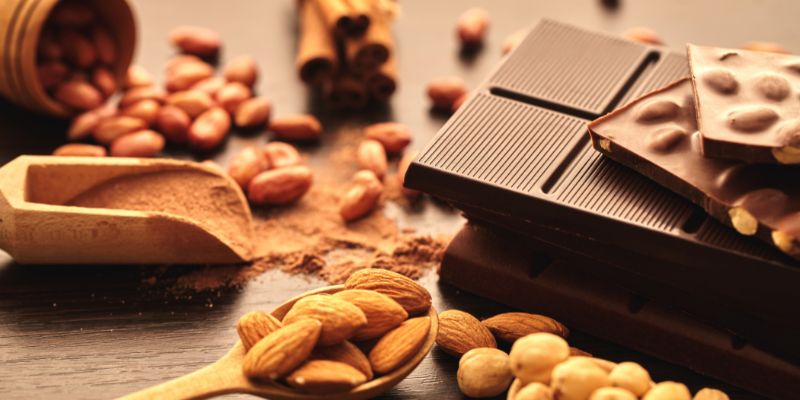 These cinnamon almond bars are a delightful and healthy snack that will satisfy any cookie enthusiast. Packed with the goodness of blanched slivered almonds and a touch of cinnamon, they are a treat you can feel good about indulging in. The secret to creating mouthwatering almond bars is blanched slivered almonds and a perfectly balanced glaze that adds just the right amount of sweetness.
Ingredients:
For the Bars:
1 1/3 cups Blanched slivered almonds
1 cup Butter
Two teaspoons Cinnamon
1 cup Sugar
1 Egg, separated
2 cups all-purpose flour
1/2 teaspoon Kosher salt
For the Glaze:
1 cup confectioner's sugar
One tablespoon of melted butter
One tablespoon Water
One tablespoon of Lemon juice
Instructions:
Line a 9×13-inch baking dish with crisscrossed parchment paper for easy removal. Metal dish preferred, but a jelly roll pan works too.
Preheat oven to 300°F (150°C).
In the bowl of a stand mixer or with a hand mixer, cream the butter until smooth and creamy. Add the sugar and cinnamon, and beat until well-mixed.
Add egg yolk to the butter mixture, saving the egg white for later.
Mix in all-purpose flour and kosher salt on low speed until well combined.
Press the dough into the lined baking dish evenly.
Beat egg white until foamy, then brush it over the dough. Add slivered almonds on top.
Bake for about 30 minutes until golden brown.
Prepare the glaze with confectioner's sugar, melted butter, water, and lemon juice.
Once the bars are out of the oven, drizzle the glaze over them while warm.
Let bars cool for 20-25 minutes, then cut into squares or rectangles, and enjoy!
3. Hummus and Veggie Sticks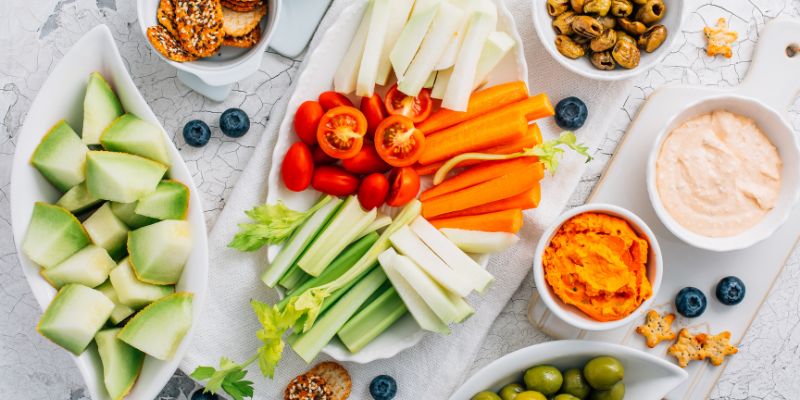 Ingredients:
One can (15 oz) chickpeas (garbanzo beans), drained and rinsed.
1/4 cup tahini
1/4 cup fresh lemon juice
Two cloves garlic, minced
Two tablespoons extra-virgin olive oil
1/2 teaspoon ground cumin
1/4 teaspoon paprika (plus extra for garnish)
Salt and pepper, to taste
Fresh vegetables (carrot sticks, cucumber slices, bell pepper strips, etc.) for dipping
Instructions:
Combine the drained and rinsed chickpeas, tahini, lemon juice, minced garlic, olive oil, ground cumin, and paprika in a food processor.
Pulse the ingredients until well blended. You may need to occasionally scrape down the processor bowl's sides to ensure everything is evenly mixed.
If the hummus is too thick, add a little water (a tablespoon at a time) to achieve your desired consistency. Continue blending until smooth and creamy.
Taste the hummus and season with salt and pepper according to your preference. You can also adjust the lemon juice or spices if needed.
Once the hummus is ready, transfer it to a serving bowl.
Garnish the hummus with a sprinkle of paprika and a drizzle of olive oil for presentation, if desired.
Wash and prepare your choice of fresh vegetables for dipping. Carrot sticks, cucumber slices, and bell pepper strips are popular, but you can use any veggies you like.
Arrange the veggie sticks around the hummus bowl or on a separate plate.
4. Baked Plantain Chips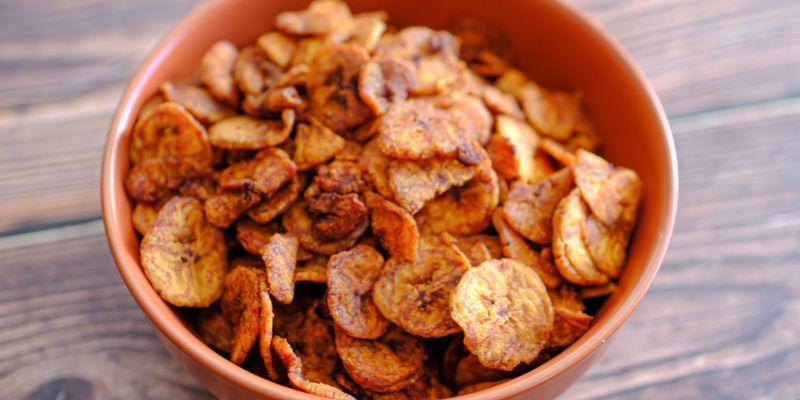 Ingredients:
Two large green plantains
One tablespoon of olive oil
1/2 teaspoon salt (adjust to taste)
1/2 teaspoon paprika or chili powder (optional for added flavor)
Instructions:
Preheat the oven to 375°F (190°C). Line a baking sheet with parchment paper or lightly grease it to prevent sticking.
Slice off the ends of the plantains and make a shallow cut lengthwise along the ridges. Carefully peel off the skin using the cut as a guide.
Use a sharp knife or a mandoline slicer to cut the plantains into thin, even slices. The chips will be more crisp the narrower the pieces are.
Toss the plantain slices with olive oil in a bowl, and coat each slice well. Mix thoroughly before adding the salt, paprika, or chili powder (if used).
Spread out the seasoned plantain slices in one layer on the baking sheet that has been prepared. For uniform baking, avoid overlapping them.
Place the plantain chips in the oven and bake for 12 to 15 minutes or until crisp and golden brown. To avoid burning, closely check them in the final few minutes.
When perfectly roasted, take the chips out of the oven, let them cool, and serve.
You'll Also Like: Is Fried Rice Good For Weight Loss? A Nutritionist Perspect
Conclusion
Opting for healthy snacks made at home ensures you have full control over the ingredients used and promotes a balanced lifestyle. By indulging in these homemade treats, you can satisfy your cravings guilt-free, knowing you're nourishing your body with wholesome, nutritious choices.