Have you ever heard of the Apple Mortgage Cake? It's not just a delicious dessert, but also a symbol of hope and resilience. In this article, you will learn how this simple recipe helped a single mother save her home from foreclosure and inspired millions of people around the world.
The Apple Mortgage Cake was created by Angela Logan, a struggling actress and teacher who faced a financial crisis in 2009. She had only 10 days to raise $4,000 to pay her mortgage or lose her house. With no other options, she decided to use her baking skills and sell homemade apple cakes to her friends and family. She called them "mortgage cakes" because each one represented a portion of her mortgage payment. In the face of such adversity, she tapped into her culinary skills and cooked up a plan to save the day—baking and selling 100 apple cakes in just one week.
What began as a desperate effort to save her home quickly became incredibly popular. Angela's story spread through social media and local news, resulting in orders pouring in from all over the country. She even appeared on national TV shows and received donations from famous people and strangers. With her hard work and determination, she managed to pay off her mortgage and keep her house.
This recipe is more than just a tasty treat. It has a deep meaning. It represents Angela's strong determination and her refusal to let circumstances control her life. The story of the Apple Mortgage Cake touched many people's hearts and inspired countless individuals to confront their own challenges with hope and resilience.
But Angela didn't stop there. She continued baking and selling her cakes, using the profits to create a scholarship fund for students in need. She also wrote a book and a screenplay about her experience and starred in a movie based on her life. She became an example of how one can overcome difficulties with creativity and bravery.
As we embark on this heartwarming journey, we will discover the hardships and victories that shaped Angela's path. From the modest beginnings of her baking venture to the widespread recognition it eventually received, this recipe holds great significance beyond just cooking. It symbolizes courage, strength, and the incredible power we all have to overcome life's obstacles.
So, put on your apron, heat up the oven, and join us as we explore the extraordinary tale behind the Apple Mortgage Cake. Together, we will celebrate the unwavering spirit and the sweet victories that can be achieved when we embrace the power of determination.
You'll Also Like: Deliciously Addictive: The Cardiff Crack Recipe
Ingredients
Before you start baking your Apple Mortgage Cake, make sure you have all the necessary ingredients ready to go. Here's what you'll need and some tips to help you choose:
Apples: The star of the cake, apples give it a moist texture and fruity flavor. You can use any kind you like, but Granny Smith, Honeycrisp, Fuji, and Gala are great options for baking. They have the right balance of tartness and sweetness. You'll need about 4 large apples or 6 medium-sized ones.
Flour: This forms the base of the cake and provides structure. You can use either all-purpose or cake flour, depending on how light and fluffy you want it to be. Cake flour gives a finer crumb and a softer texture. You'll need 2 cups of flour.
Sugar and spices: These add sweetness and enhance the flavor. Choose between granulated or brown sugar for a delicate or richer taste, respectively. Brown sugar makes the cake darker and chewier. To spice things up, cinnamon and nutmeg are perfect. You can also use cloves or ginger if you like. These spices add warmth and aroma. You'll need 1 1/2 cups of sugar, 1 teaspoon of cinnamon, and 1/4 teaspoon of nutmeg.
Remember, gathering these ingredients is just the first step towards creating a delightful Apple Mortgage Cake. Let's get started and enjoy the process!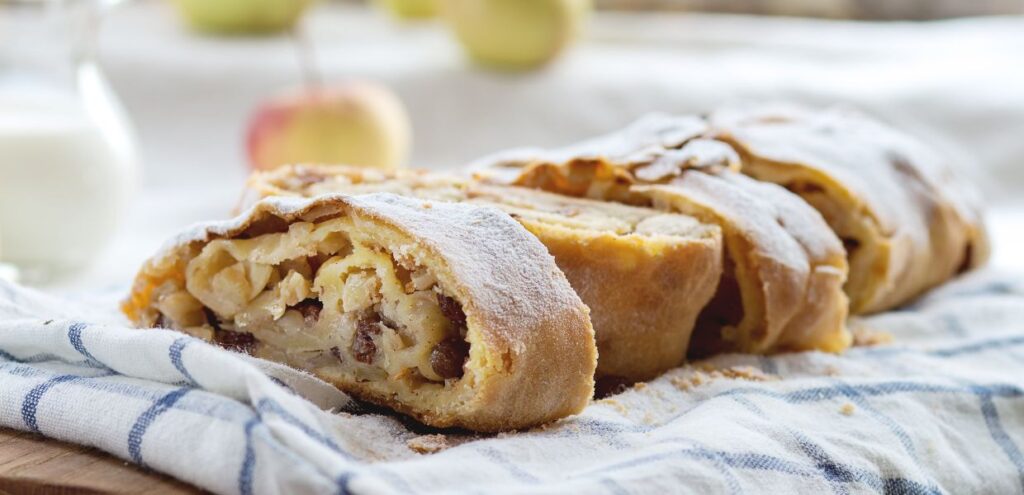 Additional ingredients: Listing the necessary items
In addition to the star ingredients mentioned above, let's ensure we have the following items on hand to complete our Apple Mortgage Cake:
Baking powder: This leavening agent helps our cake rise to perfection.
Salt: Just a pinch will enhance the flavors and balance the sweetness.
Eggs: These will provide structure and moisture, binding the ingredients together.
Vegetable oil: We'll use this to add moisture and richness to the cake.
Vanilla extract: A splash of this delightful essence will elevate the overall flavor.
Chopped nuts (optional): If you desire an extra crunch and nutty flavor, consider adding a handful of chopped nuts like walnuts or pecans to the mix.
With these essential ingredients gathered and ready, we have set the stage for an unforgettable baking experience. It's time to roll up our sleeves and transform these humble ingredients into a masterpiece—the Apple Mortgage Cake. Get ready to savor the delightful aromas and flavors that will soon fill your kitchen!
You'll Also Like: Is Fried Rice Good For Weight Loss? A Nutritionist Perspect
Preparing the Apple Filling
A. Peeling and slicing the apples
The first step in creating the luscious apple filling for our Apple Mortgage Cake is peeling and slicing the apples. Take those beautiful, hand-picked apples we gathered earlier and get ready to transform them into tender, flavorful slices.
Start by peeling the apples using a sharp knife or a handy peeler. Remove the skin in a careful, steady motion, ensuring to take off only the outer layer, revealing the crisp flesh beneath.
Once peeled, it's time to slice the apples to the desired thickness. Aim for uniform slices that are not too thin or too thick, around ¼ to ½ inch in width. This will ensure even cooking and a delightful texture in every bite.
B. Combining apples with sugar and spices
Now that we have our perfectly sliced apples, let's bring them to life by combining them with the right balance of sugar and spices. This magical blend will infuse our filling with sweetness and warmth.
In a mixing bowl, gently toss the apple slices with granulated sugar. The amount of sugar needed will depend on the sweetness of the apples and your personal preference. Start with a conservative amount and adjust to taste.
To elevate the flavor profile, sprinkle in a generous pinch of ground cinnamon and a hint of nutmeg. These aromatic spices will impart a cozy, autumnal essence to our filling, enhancing its irresistible appeal.
C. Cooking the apple filling to perfection
With our apples lovingly coated in sugar and spices, it's time to cook them to perfection—softening them just enough to create a delectable, tender filling for our Apple Mortgage Cake.
Transfer the apple mixture to a saucepan, and set it over medium heat. Allow the apples to cook gently, stirring occasionally to prevent sticking or burning.
Cook the apples until they become tender yet retain a slight bite. You want them to soften enough to create a melt-in-your-mouth texture, but still hold their shape. This process usually takes about 8-10 minutes, but keep an eye on them to ensure they don't overcook.
Congratulations! You have now prepared the soul-warming apple filling for our Apple Mortgage Cake. The sweet aroma of cinnamon and nutmeg will have your kitchen feeling like a cozy haven. This delicious filling is the heart of our cake, and it's ready to be embraced by layers of moist cake and a blanket of delightful flavors. Get ready to take the next step on our journey as we assemble and bake this extraordinary creation.
Creating the Cake Batter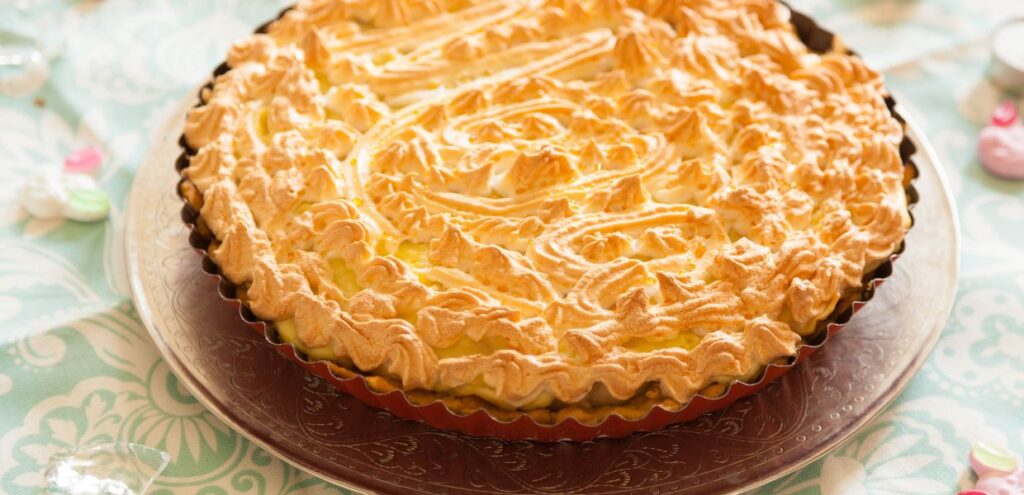 The cake batter is like the magic potion for the Apple Mortgage Cake. It's what makes the cake soft, moist, and wonderfully crispy. Making this batter is super easy and lots of fun. Let's dive into the enchanting steps to create this delightful concoction:
Preparing the Ingredients: Take a modestly sized bowl and combine the flour, baking soda, and salt with the nimble movement of your whisk. These elements bear immense significance, as they hold the power to elevate your cake and provide it with a sturdy framework. It is of utmost importance to exercise precision in their measurement and to meticulously sift them, ensuring the absence of any unsightly lumps or irregularities within the batter. Your ultimate goal is to bestow upon your cake a silky smoothness, a flawless texture that tantalizes the senses, steering far away from any hint of lumpiness or coarseness.
Incorporating the Wet Ingredients: Moving on to the next step, it's time to blend in the wet ingredients. Take a large bowl and use an electric mixer to cream together the butter and sugar until it becomes light and fluffy. This process should take roughly 3 to 4 minutes. Next, add the eggs one at a time, beating well after each addition. This will contribute richness and structure to the batter. Finally, introduce the vanilla extract and mix everything thoroughly. The result will be a batter that looks and smells incredibly creamy and delightful.
Achieving the Perfect Cake Batter Consistency: The final objective is to achieve the ideal consistency for your cake batter. Gradually add the dry ingredients to the wet ingredients, gently mixing them together using a spatula or a wooden spoon until they are just combined. Be careful not to overmix, as this will result in a tough and dense cake. The batter should be smooth and thick, striking the right balance between stiffness and liquidity. You'll find it remarkably easy and enjoyable to work with this batter.
Your cake batter is now ready to be baked in the Apple Mortgage Cake. You can either pour it into a greased 9×13 inch baking pan or divide it into two 8-inch round cake pans. Get ready to witness the astonishing transformation of this cake as it bakes to perfection.
You'll Also Like: Delicious Curry Turkey Wings Recipe: A Flavorful Twist to Traditional Turkey
Assembling the Apple Mortgage Cake
A. Layering the cake batter and apple filling
Now that we have our luscious apple filling and perfectly mixed cake batter, it's time to bring them together in a harmonious union. This step will create the layers of flavor and texture that make the Apple Mortgage Cake truly special.
Preheat your oven to the recommended temperature mentioned in the recipe.
Take a greased and floured baking pan, preferably round, and begin by pouring a generous amount of cake batter into the bottom. Use a spatula to spread it evenly, creating a smooth base for our layers.
Spoon a layer of the prepared apple filling on top of the cake batter, covering it evenly. Be careful not to spread it too close to the edges to avoid leakage during baking.
B. Creating alternating layers for a delightful surprise
To make each slice of the Apple Mortgage Cake a delightful surprise, we'll create alternating layers of cake batter and apple filling. This will ensure a harmonious balance of flavors and textures in every bite.
Repeat the process by adding another layer of cake batter on top of the apple filling. Spread it gently and evenly to cover the filling completely.
Once again, spoon another layer of apple filling on top of the cake batter, ensuring it spreads evenly across the surface.
Continue alternating layers of cake batter and apple filling until you have used up all the ingredients. The number of layers will depend on the size of your baking pan and the desired thickness of the cake. Aim for a balanced distribution to achieve a delightful mosaic of flavors.
C. Ensuring an even distribution of ingredients
As we assemble our Apple Mortgage Cake, it's important to ensure an even distribution of the cake batter and apple filling. This will ensure that each slice is a harmonious blend of moist cake and tantalizing apples.
Once all the layers are in place, gently tap the baking pan on the countertop. This will help settle the batter and filling, ensuring they are evenly distributed throughout the cake.
Take a spatula or the back of a spoon and run it through the layers in a gentle swirling motion. This will help to create a marbled effect, blending the cake batter and apple filling together for a visually appealing presentation.
With the layers beautifully assembled, our Apple Mortgage Cake is now ready to be baked to perfection. Place the pan in the preheated oven and allow the magic to unfold. As the cake bakes, the aromas will fill your kitchen, promising a delightful treat that combines the comfort of homemade cake with the indulgence of spiced apple goodness. Get ready to savor the mouthwatering results that await!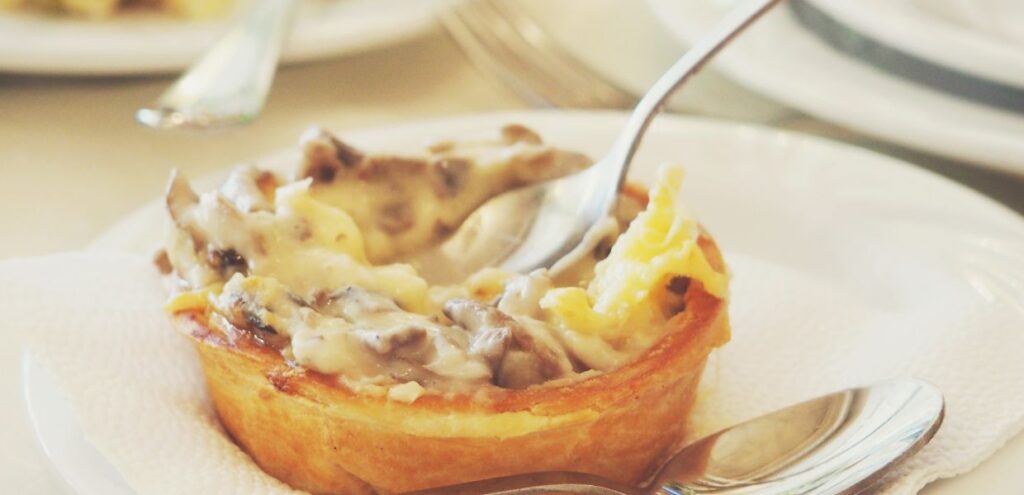 Baking the Cake
The baking is the final and most exciting step of making the Apple Mortgage Cake. It's when you get to see your cake transform from a batter to a beautiful and tasty dessert. Here are the steps to bake the cake:
Preparing the oven for optimal baking: Begin by preheating the oven to the perfect temperature. This ensures that your cake receives a warm and welcoming environment, allowing it to bake evenly and efficiently. For this recipe, set the oven to 350°F (177°C). This temperature is commonly recommended for baking cakes and other delightful treats.
Placing the cake in the oven to bake: Now, carefully position your cake within the oven, aiming for the central spot. This placement guarantees that your cake receives ample heat from all directions, enabling it to develop a beautiful texture. Remember to leave enough space around the cake pan, allowing the air to freely circulate. If you're using a 9×13 inch pan, bake the cake for approximately 25 to 30 minutes. For two 8-inch pans, the baking time is around 20 to 25 minutes. During this period, the cake will acquire a golden hue, a firm top, and a fully cooked center.
Monitoring the cooking time for best results: The final step is to monitor the cooking time for best results. You don't want to overbake or underbake your cake, as that will affect its texture and taste. You should check your cake a few minutes before the suggested time, and insert a toothpick or a knife in the center. If it comes out clean or with a few moist crumbs, your cake is done. If it comes out wet or sticky, your cake needs more time. You should also look at the color and smell of your cake. It should be golden brown and fragrant, not pale or burnt.
The baking process is complete, and your Apple Mortgage Cake is now ready to be savored. You have two options: serve it while it's still warm, or let it cool down completely before cutting it into slices. For an extra touch of indulgence, consider adding some whipped cream or ice cream on top.
You'll Also Like: Hennessy Cake Recipe: A Delicious and Boozy Dessert Delight
Decorating and Serving: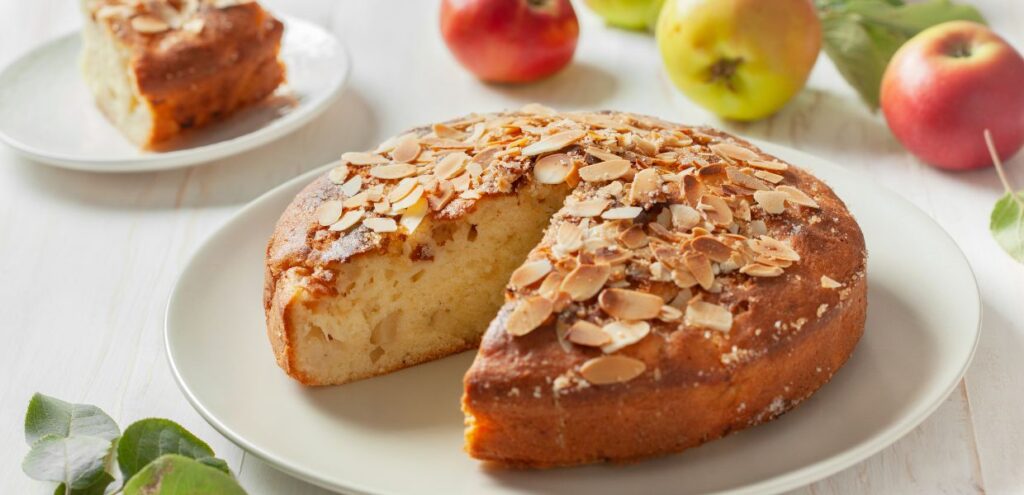 The final and most rewarding step is decorating and serving your Apple Mortgage Cake. This is when you can add your personal touch and enhance both its taste and appearance. Follow these simple steps:
Allow the cake to cool down before adding the finishing touches: It's crucial to grant your cake the necessary time to cool off completely before diving into the decorating process. This ensures that it becomes stable and won't risk any melting or sliding mishaps. Let it rest in the pan for roughly 10 minutes to settle, and then transfer it gently onto a wire rack for a thorough cooling session. Depending on the size and shape of your cake, this chill-out period might take anywhere from one to two hours.
Optional: Elevate the cake's charm with a glaze or frosting: Although not obligatory, incorporating a glaze or frosting can truly elevate your cake's flavor and aesthetic appeal. The choices at your disposal are endless, ranging from indulgent caramel to luscious cream cheese, velvety buttercream, or luxurious ganache. To enhance the textural experience and visual delight, consider adding in some crunchy nuts, playful sprinkles, or tantalizing chocolate chips. Smoothly spread the glaze or frosting over the cake's top and sides using a spatula or knife, aiming for an even and consistent coverage. For a more rustic and artistic touch, let the glaze or frosting cascade in a graceful drizzle.
Slice and serve the Apple Mortgage Cake: The final step is to slice the cake and serve it to your eager guests. Ensure that the slices are neat and generously portioned, allowing everyone to enjoy a satisfying piece. Use a sharp, serrated knife to cut through the cake, wiping it clean after each slice. A cake server or spatula can be helpful for lifting and transferring the slices onto plates. Serve the cake at room temperature or slightly warmed, based on personal preference. For an extra treat, accompany it with a dollop of whipped cream or a scoop of ice cream.
With the decorating and serving complete, it's time to indulge in the delightful flavors of your Apple Mortgage Cake. Share this scrumptious creation with your loved ones or save some for later. Consider spreading the joy further by sharing your story and recipe, inspiring others to create their own Apple Mortgage Cake.
Conclusion
Congratulations on completing this culinary journey, which extends beyond a mere recipe. The Apple Mortgage Cake is a tale of hope and resilience, capable of touching countless hearts worldwide. It symbolizes faith and perseverance.
We encourage you to try this special and delightful dessert, relishing it in the company of those dear to you. By sharing your story and recipe, you can spread the warmth of the Apple Mortgage Cake and support Angela Logan's noble cause. Visit her website to learn more and order her cakes online.
Remember, the Apple Mortgage Cake is more than a delectable treat; it embodies creativity and courage. It serves as a reminder that the most unexpected sources can offer the best solutions. Thank you for accompanying us on this journey, and happy baking!